lundi 7 novembre 2011
We saw this lovely feature of TALC on Australian children's magazine Papier Mache, and they did a nice interview with the creator of TALC - Therese Yang, hope you will like their collection as much as we do.
*Talc f/w 2011-2012 is now available at petit bazaar* boutiques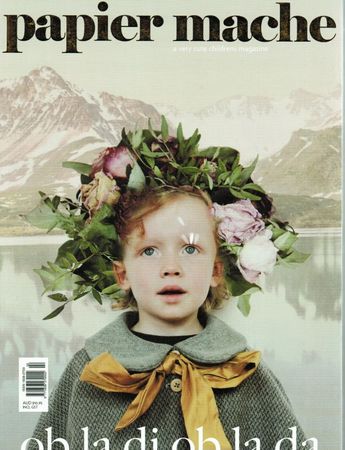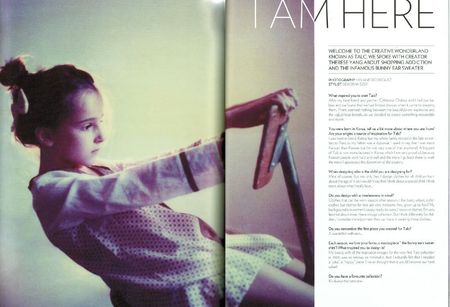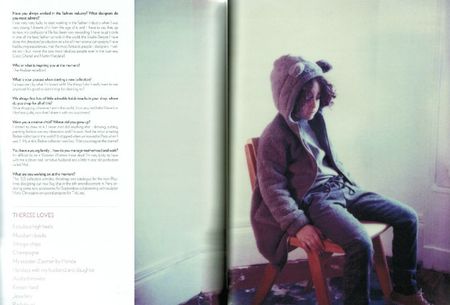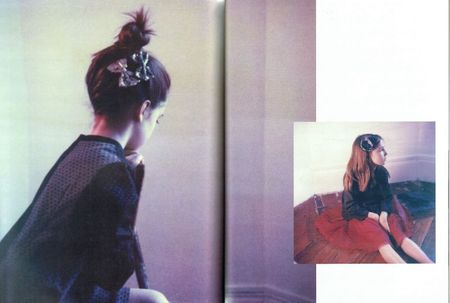 I AM HERE
- Papier Mache 02 print issue -

- Welcome to the creative wonderland known as TALC. We spoke with creator Therese Yang about shopping addiction and the infamous bunny ear sweater. -
photography Melanie Rodriguez
Stylist Deborad Szef
What inspired you to start TALC?
After my best friend and partner, Catherine Chabas, and I had our babies and we found that we had limited choices when it came to dressing them. There seemed nothing between the beautiful/very expensive and the ugly/cheap brands...so we decided to create something reasonable and stylish.
You were born in Korea, tell us a bit more about where you are from? Are your origins a source of inspiration for Talc?
I was born in Seoul, Korea, but my whole family moved in teh late seventies to Paris as my father was a diplomat. I used to say that i was more Parisian than Korean but I'm not sure of that anymore!! A big par of Talc is now manufactured in Korea, which I am very proud of, because Korean people work hard and well and the more I go back there to work the more I appreciate the dynamism of the country.
When designing who is the child you are designing for?
Mine of course! But not only for her, I design clothes for all children from about the age of 4, so I wouldn't say that i think about a special child, I think more about what I really love....
Do you design with a timelessness in mind?
Clothes that can be worn season after season...I like basic, urban, stylish clothes but clothes for kids are very transient, they grow up so fast!! My background is in women's luxury RTW, I LOOOOOVE clothes. I am very festishist about mine. I have huge collection, but I think differently for children. I consider the enjoyment they can have in wearing those clothes...
Do you remember the first piece you created for Talc?
A sweatshirt with ears...
Each season, we love your famous masterpiece "the bunny ears sweat-shirt"!!! What inspired you to design it?
My board, with all the inspiration images for the very first Talc collection in 2006, was so serious, so minimalist, that I naturally felt that I needed a "joke", a "happy" piece. I never thought that it would become our best seller!!!
Do you have a favourite collection?
It's always the next one....
Have you always worked in the fashion industry? What designers do you most admire?
I was very very lucky to start working in the fashion industry when I was very young. I dreamt of it from the age of 6, and I have to say that, up to now, my professional life has been very rewarding. I have taught style in one of the best fashion schools in the world, the Studio Bercot; I have done Art direction/production on a lot of international campaigns; I have had buying experiences, met the most fantastic people - designers, models etc - but never the two most fabulous people ever in the business, Coco Chanel and Martin Margiela!!!
Who or what is inspiring you at the moment?
The Arabian rebellion!!!
What is your process when starting a new collection?
I always start by what I'm bored with! The things i don't really want to see anymore!!! It's good to start things by cleaning, no?
We always find lots of little adorable knick-knacks in your shop, where do you shop for all of this?
I love shopping, wherever I am in the world, it's a very bad habit I have but I feel less guilty now that I share it with my customers!
Were you a creative child? Where did you grow up?
I started to draw at 4. I never ever did anything else - drawing, cutting, painting, fashion was my obsession, and I'm sure I had the most amazing Barbie collection in the world! It stopped when we moved in Paris when I was 7. My entire Barbie collection was lost. I'll let you imagine the drama!
You have a young family...how do you manage motherhood and work?
It's difficult to be a Wonder Woman these days! I'm very lucky to have with me a clever and sensitive husband and a little 9 year old perfection called Mia!
What are you worknig on at the moment?
The S/S collection samples, shootings and catalogue for the next Playtime; designing our new flag ship in the 6th arrondissement in Paris; ordering some new accessories for September; collaborating with sculptor Maire Christophe on special projects for Talc..etc
Theres Loves....
Favulous high heels
Murakami books
Vinegar chips
Champagne
My scooter Zoomer by Honda
Holidays with my husband and daughter
Audiard movies
Korean food
Jewlellery
Radiohead

Commentaires
Poster un commentaire